LP Vinyl Records usually come with the sizes of 12", 10", and 7". Since the difference between 12" and 10" is very little so New Cyberian only offers 12" and 7". For 12" we offer two weights; i.e. 150g and 180g. The heavier 189g vinyl provides more robust and stable playing platform and hence, according to some audiophiles, gives better sound quality.
On both 12" and 7" there are options for 33⅓ RPM and 45 RPM; although it is more common for 12" to have 33⅓ RPM and 7" to have 45 RPM.
Length of each side
12" 33⅓ RPM
- 22 minutes
12" 45 RPM
- 15 minutes
7" 33⅓ RPM
- 6 minutes
7" 45 RPM
- 4½ minutes
Different colors style can be chosen for the LP Vinyl Records; for example solid colors, transparent colors, and splatter colors. Since LP Vinyls are non-optical in nature, the colors will not affect the sound quality. They do affect the price slightly.
Packaging for LP Vinyl Records is relatively simple. The most common packaging is a cardboard jacket which can be single pocket or gatefold. If you choose to use cardboard jackets you can also choose to have them shrink wrapped or put in polybags. Polybags can be re-used but shrink wrap, once torn, cannot be re-used.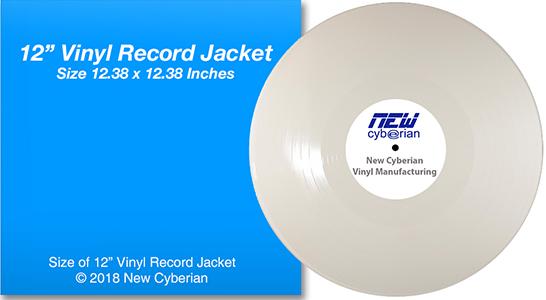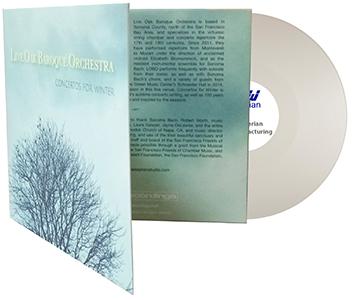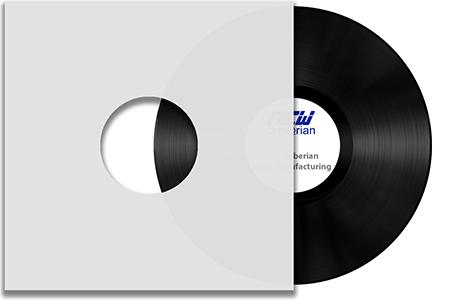 Simple Jacket
Gatefold Jacket
Inner Sleeve Only
Based on your selections from the options menus we have determined that you will need the following artwork templates.
You will need either Adobe Photoshop or Adobe Illustrator to open the template. If you use non-standard fonts please either send us the font files, outline the fonts (Illustrator), or rasterize the fonts (Photoshop). Missing fonts is a common problem we face when clients use non-standard fonts.
We can also accept artwork in other format from programs such as CorelDraw, Quark, and Gimp as long as the following specifications are met.
300 dpi,
CMYK mode,
LP vinyl record pressing is a very complex process. The lead-time depends on ordered quantity, proofing cycle, and other unpredictable factors. If you have a specific date to receive your order please communicate with us. By and large, the estimated lead-time is as follow:-
Lacquer mastering, plating, & test pressing
3-4 weeks
Mass Production
10-15 days
Please submit your music source that meets the following specifications:-
Sample Rate
44.1K ~ 192K
If you hire a mastering house to create the music source files, please inform your mastering engineer that the files are for LP vinyl records instead of CDs.
You can upload your music source files and artwork files to your Dropbox or Google drive and then send us the download link. If you don't use Dropbox or Google drive you can use flle sharing platforms such as We Transfer (set the recipient to be sales@newcyberian.com). Please zip up the files into one single zip file before uploading to aovid the possibility of omitting some files.