Based on your selection from the option menus, you can get instant price quote plus shipping by specifying your zipcode and the quantity.
No software installation is required. The DVD Duplicator (also functions as a CD duplicator) is a stand-alone unit with operations as simple as operating a copier machine. It is ready to be used the minute you open the box. Besides burning DVD's, the DVD Duplicator Towers can also be used in burring CD-R's. With optional built-in hard drive for caching, you can store DVD and CD images on the hard drive making the burning process even faster and more reliable. Despite its versatility, all the duplicators require absolutely no learning curve. There is no software to learn, no Bible size User's Manual, no intimidating sequence to be remembered. If you can operate a Xerox machine, you can operate the DVD duplicator just the same way. You don't even need to consider whether the DVD duplicator will copy DVD-R or DVD+R because it works on both media formats.
You have the option to choose Acard or SmarrCopy controller card for the DVD duplicator. The only difference is the buffer size. The buffer size for Acard is 64MB. SmarrCopy offers 128MB buffer which makes the copying more stable and reliable.
Make sure to read our Duplicator FAQ before making your decision.
1-to-1 DVD Duplicator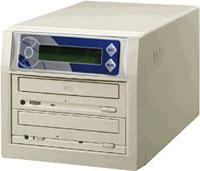 Need a handy desktop copier for CD and/or DVD? Nothing can be more practical then this 1 to 1 DVD Duplicator (functions as a CD Duplicator too). Making a CD/DVD copy is just as simple as pop in and pop out. It's totally fool-proof. Just put the master disc into the top reader and a blank disc into the writer. Press 'N Go! In just a snappy a brand new copy of the master will pop out from the writer. There is no need for running any software.
1-to-3 DVD Duplicator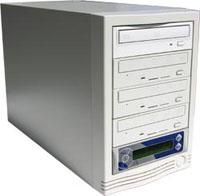 The 1-to-3 DVD duplicator is for casual users who need CD burning or DVD burning frequently but do not require large number of discs. With the compact design the whole duplicator can go harmoniously with other desktop equipment. With this unique DVD Duplicator burning CD or DVD can't be easier. Just put the master disc into the top reader and the blank discs into the writers. Press 'N Bingo! In just few minutes brand new replica of the master will come out from the lower disc writers. There is no need for software as the DVD Duplicator is totally fool-proof.
1-to-7 DVD Duplicator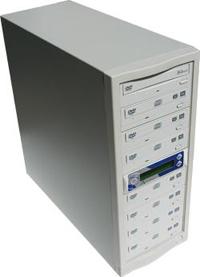 Burning DVD in large volume can be daunting when using the wrong tool. Let the law of large number help you. With a 1-to-7 DVD duplicator you can speed up the process as much as 7 times
1-to-11 DVD Duplicator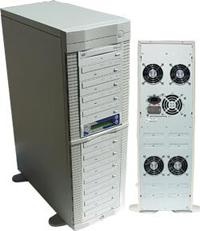 Time is of essence! When you need large number of CD or DVD in short time, this 1 to 11 DVD Duplicator definitely will be your savior. It turns a used to be daunting task into a fun game. Law of large number is on your side now!